THIS POST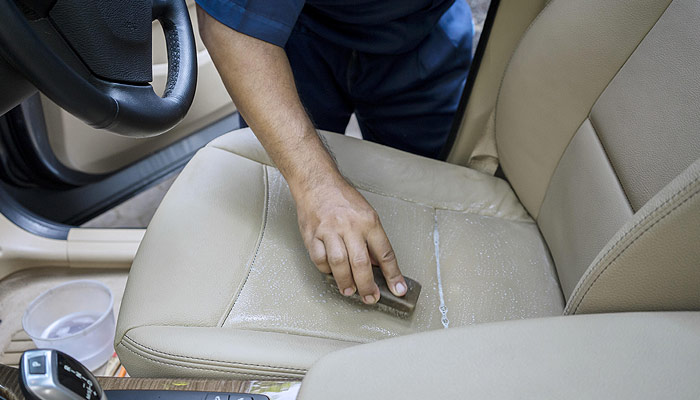 HOW TO REVIVE CAR LEATHER
Posted. 29 October 2018

Leather seats look great in nearly any car and can really help complete your car's overall look. Like all other parts of the car though, leather is prone to wear and tear, and if it isn't looked after, it can end up making your car look lifeless and dull.

You wouldn't want your car to look like this on the outside, so why should the inside be any different? Follow these tips to help give your car leather a new splash of life.



Cleaning the leather
You'll want to start by removing any dirt, dust and stains from the leather by giving it a good clean all over. There are many different products available but even all-purpose cleaner you use around the home can be used at this stage of the process. If you are worried about the cleaning product you are using, simply test it first on a small inconspicuous area of the car leather.

Once you've selected your cleaner, apply a liberal amount all over the leather using a cloth and leave it to dry for about half an hour before moving on to the next step.



Prepping the leather
Cleaning the leather won't help you remove the various oils and waxes that were likely applied to it to achieve the manufacture finish during its production though. To do this, you'll need to prep the leather.

Apply some leather prep to the leather and work it into the seats using an abrasive pad. Sandpaper can also be used during this step to help remove and clean away loose residue, which can help you achieve a smooth finish in the later stages.

After a short while, you should begin to see some of the leather's colour appear on your abrasive pad. Once this starts to happen, you'll know you have successfully removed the manufacture finish and are ready to begin binding the leather.



Leather Binder
Binding your car leather is an essential step in the restoration process as not only can it breathe some life back into your leather but also helps strengthen it.

Apply an even coat of leather binder and allow to dry before applying another coat. We recommended 8-10 coats which will take you a little while, but the added benefit of strengthening the leather will mean it should be a long time before you'll need to revive your car's leather again.



How damaged is the leather?
The next step will largely depend on the condition of your car leather. If it is very worn and has large cracks then using leather filler is probably your best bet. This will allow you to easily apply the filler into the cracks without applying it unnecessarily to the less damaged areas of the leather.

If some of the filler does overflow from the cracks, you can simply sand down the exposed areas with sandpaper.

If you feel you don't need to use any leather filler on your seats, you can skip straight to the most rewarding part of the process - repainting the leather.

It may be tempting to reach for the airbrush right away, but applying the first coat of colour with a sponge first can help give you a solid undercoat from which to build on additional layers.

Once the first layer has been applied and fully set, then feel free to use an airbrush to apply additional layers - just make sure you wait for each one to dry before applying the next. If you want to make the process faster, you can use a hot air blower to help the colour dry faster.

Depending on the type of leather you have, the number of coats needed can vary. However, you should be able to tell yourself once you have applied enough layers when you can no longer see any of the repairs and the original base colour.



Finishing touches
The final step is to apply some finishing touches to the leather to ensure it looks the best it can be.

There are a few different products you can use but a healthy coat of leather finish covering can help seal in the leather and give it a nice professional look.

To apply, use a different sponge to cover the leather in its entirety. Two coats should be enough, although make sure you leave sufficient time for each coat to fully dry before applying the next.

Once the second coat has dried, that's it! Congratulations, you now know how to keep the inside of your leather car looking its best.

Don't fancy doing all the hard work yourself? Our silver, gold and crystal packages offer leather treatment as standard alongside a wealth of other services to help your car look and perform its best. Contact us today to find out more.